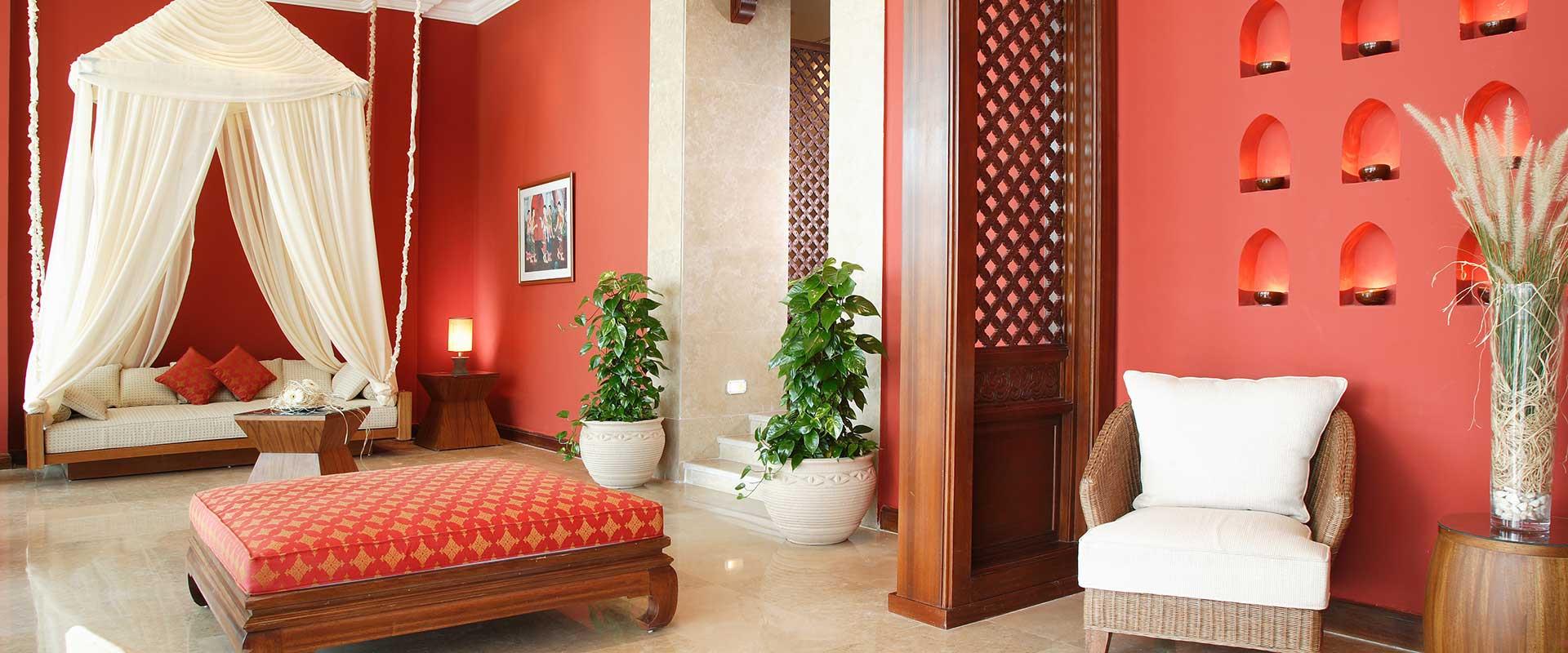 Description
Leave everything else behind as you step into the "Thai Spa & Wellness Center", where your holistic relaxation needs are met with the exotic healing practices of Thailand. Experience the bliss of a Thai massage at the hands of professionally trained experts that speak both English and Arabic.
Choose from a selection of beautifying cosmetic treatments amplified with processed minerals from the Dead Sea, coupled with acupressure and therapeutic care designed to restore you from within. Complete your visit by enjoying the sauna and steam rooms, or by working out at the fitness center.
Gym:
Discover our hotel gym with advanced TechnoGym machines where you can achieve your fitness goals. Our friendly staff is here to help, creating a comfortable and motivating atmosphere.
Sauna:
Relax in our hotel's sauna for the ultimate unwind. Enjoy a peaceful experience in our tranquil sauna retreat, designed to rejuvenate and refresh.
Steam:
Indulge in the calming effects of steam at our hotel's luxurious steam room. Experience a serene escape as warm steam envelops you, promoting relaxation, detoxification, and renewal.
Treatments include:
The Jolie Thai Classic Massage
Our signature 2.5 hour anti-stress program for reliving muscle tension and promoting circulation, with a focus on the head, neck, and back. Includes hydrotherapy and reflexology massage.
The Jolie Thai "Relax & Relieve"
A longer and more focused 3.5 hour session that exfoliates stress by applying the Reiki relaxation method, along with hydrotherapy and full body peeling.
Beauty Dream
A 2-hour treatment with a fixation on optimal skin health, incorporating aroma massage, hydrotherapy, and body peeling.
Two Turtledoves
An intimate indulgence for couples set in the Jolie Spa's romantic VIP room. This 3.5 hour pampering comes with aroma massage, Swedish massage, facial, hydrotherapy and full body peeling
Diver's Special
A selection of special treatments catered to adventurous divers, comprising back & shoulder massages, moisture replenishment, and various packages for tackling diving-related tensions and strains, as well as promoting general well-being.
Operating Hours:
9:00 AM - 8:00 PM
To request an appointment outside of these hours, email info@src-maritim-jolieville.com or visit our facility upon arrival.